If you're looking for a family-friendly weekend getaway that's still close to home, give glamping a go! Utah is a prime location for local adventurers, with plenty of luxurious accommodations hidden among some of the most beautiful landscapes in the nation. Stay in a mountain-based log cabin for access to skiing, mountain biking, hiking, and rock climbing, or glamp out in a safari tent situated by a lake for the opportunity to swim, fish, kayak, or simply hang out by the water. The possibilities are endless, but to give you a lending hand, we've picked the top 5 glamping spots to visit this season with the help of Glamping Hub
Luxury Yurt with Red Rock Cliff and Sevier River Views near Red Canyon, Utah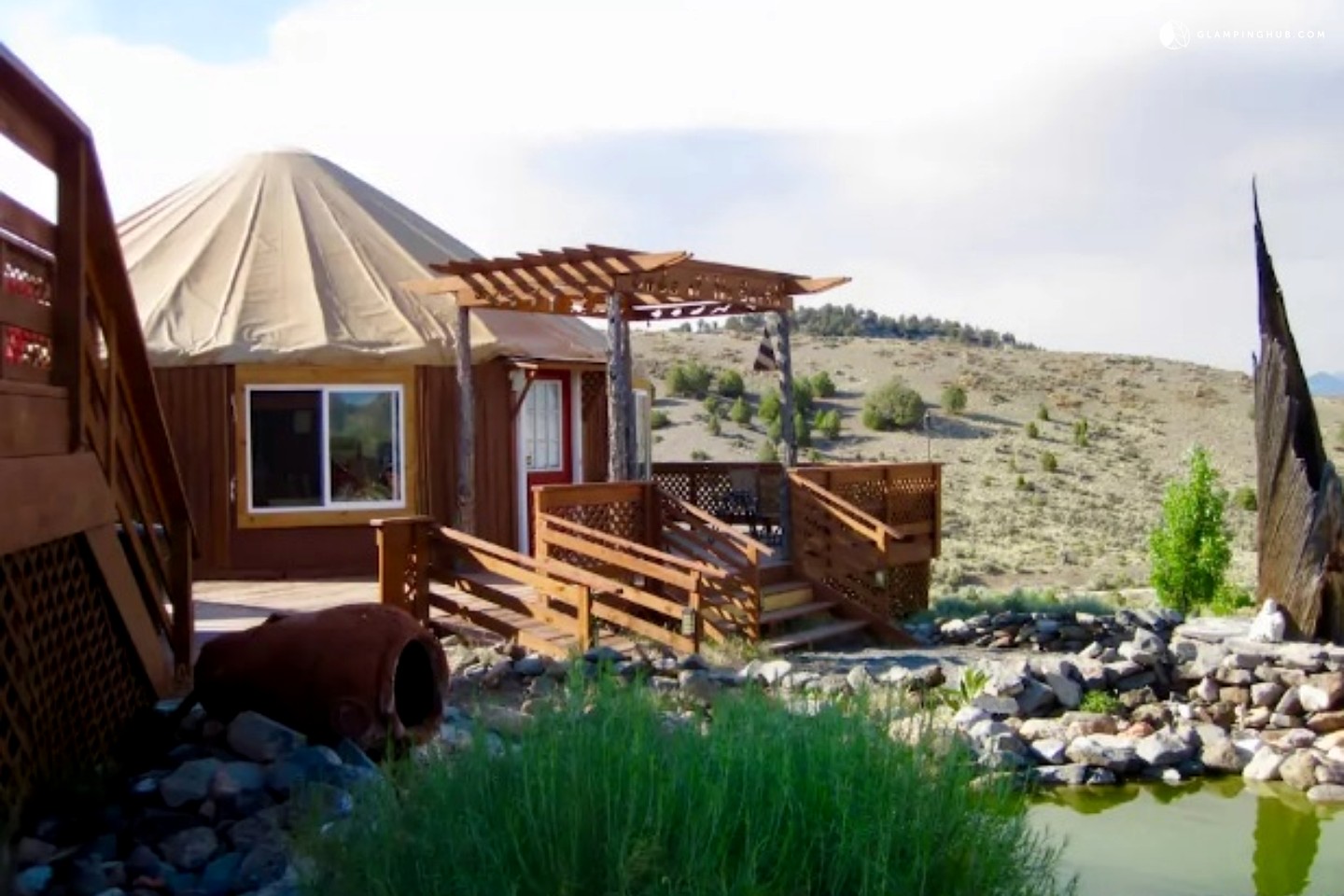 For our Utah glampers looking to explore the scenic views of the Red and Bryce Canyons, take a trip to this luxury yurt located in Panguitch, Utah. The unique property is suitable for a family of four and offers a variety of amenities, both inside and out. Parents will fall in love with the uniquely designed yurt, with its cozy living room and fully equipped kitchen, while children will enjoy exploring the surrounding nature-filled fields. Family outings will include hiking, biking, swimming, bird watching, and more. Take a break from the city lights and treat your loved ones to a glamping experience they'll never forget.
Unique Tower Cabin Rental with Panoramic Views of Park City, Utah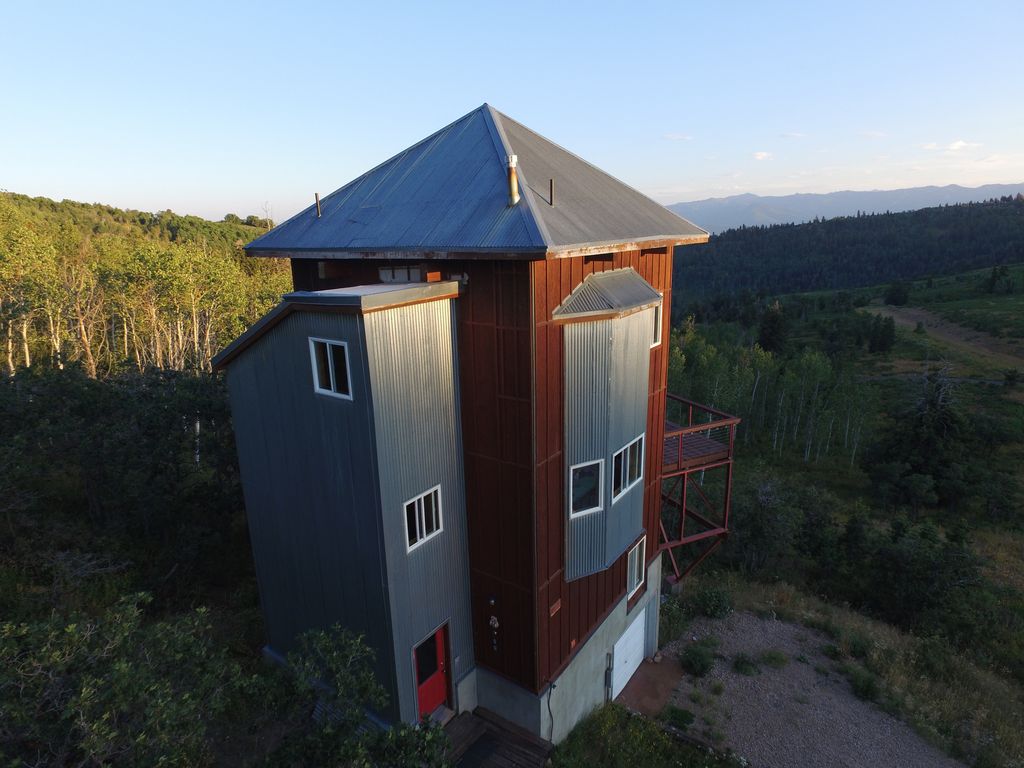 Live life on the edge—literally—by staying at this unique tower cabin located in Park City Utah. The elevated property sits on the edge of a cliff, offering incredible views of the surrounding mountains and valleys. Bring your family here for a fall getaway and watch the leaves turn from the top floor master bedroom, or if you're up for waiting until the winter months, this glamp site is perfect for a ski weekend. Spend the days exploring the mountains on a hot air balloon ride and wrap up the evening by curling up by the cozy fireplace with a hot chocolate. Some quality time with the family will surely make this incredibly unique structure a second home.
Native American Tipi in Scenic Canyon Country, Utah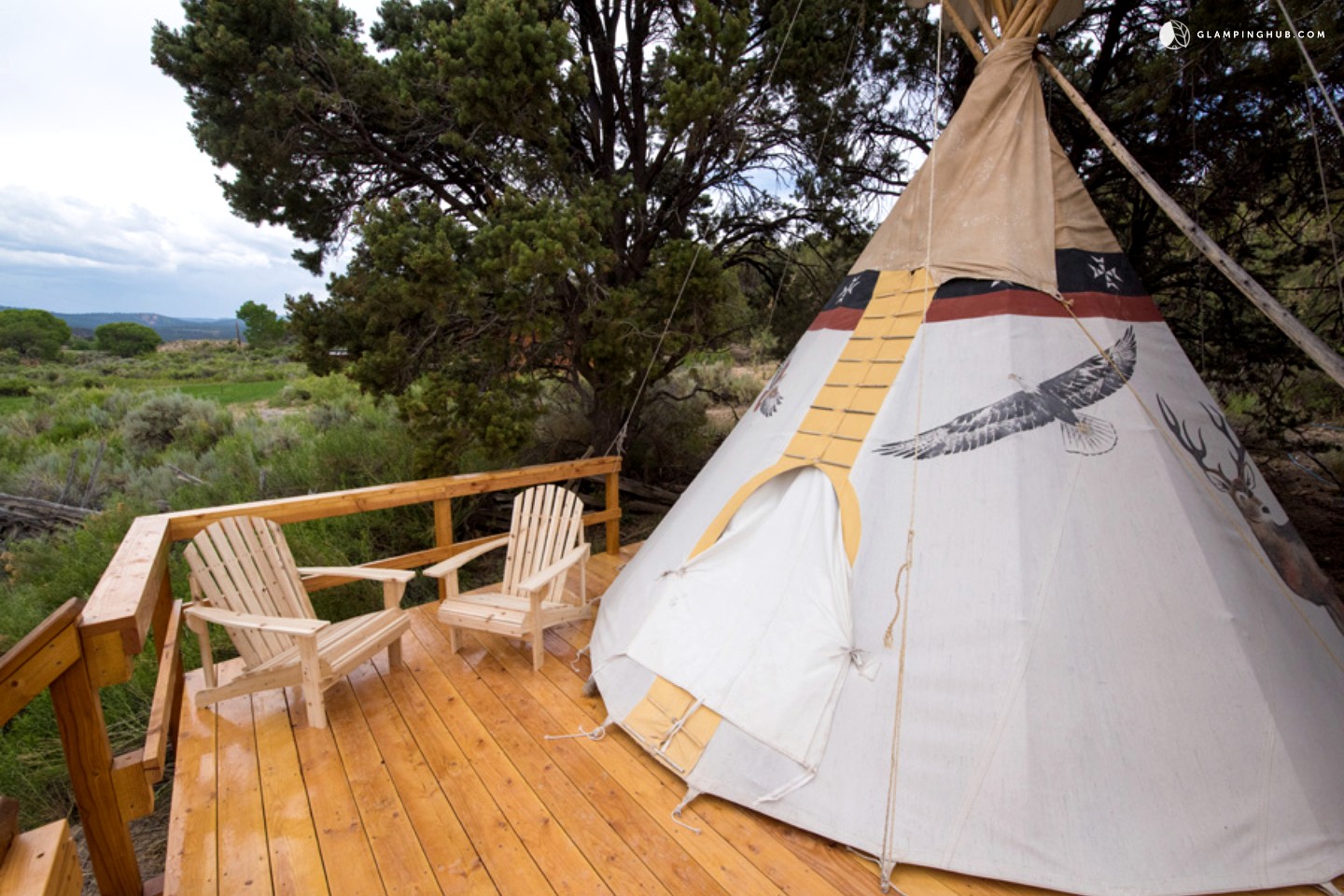 For our truly adventurous Utah-based glampers, spend a night or two in this Native American-style tipi. The small, but luxurious, accommodation  is in a prime location for several activities while still having the amenities of a five-star hotel. From game nights and friendly sports to rafting and rock climbing, there's an activity for every type of glamper. The tipi is also near Calf Creek, a beautiful area that consists of several pools and waterfalls stretching as high as 126 feet. As it is one of the smaller accommodations, this property is typically suitable for couples; however, there's always room for man's best friend at this pet-friendly glamping site.
Waterfront Log Cabin Rental with Wood-Burning Stove near Salt Lake City, Utah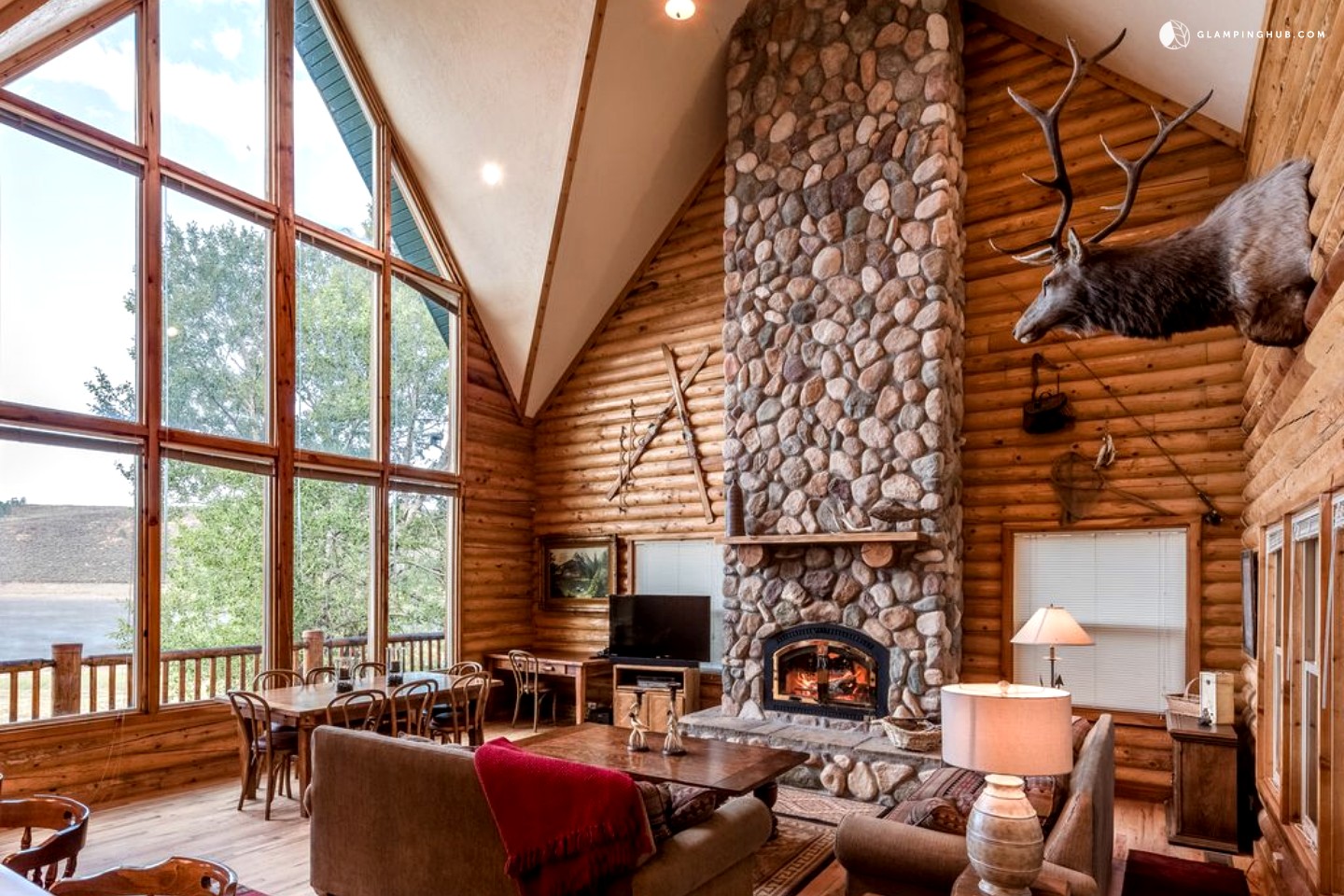 Interested in something a little more luxurious? Take a gander at this chic, modern log cabin facing the stunning Scofield reservoir. The proximity to Salt Lake City makes this property one of the most desired among international wanderers, as there is plenty to do on-site while still having access to the city. The spacious cabin can accommodate up to 14 guests, making it the perfect location for a family reunion, an intimate event, or just a weekend getaway for family and close friends. The waterfront location aids in offering an endless number of activities ranging from fishing to sunbathing, while the forest nearby offers a thrilling escape into the wilderness.
Deluxe and Luxury Camping Tent Set near the Three Patriarchs of Zion National Park, Utah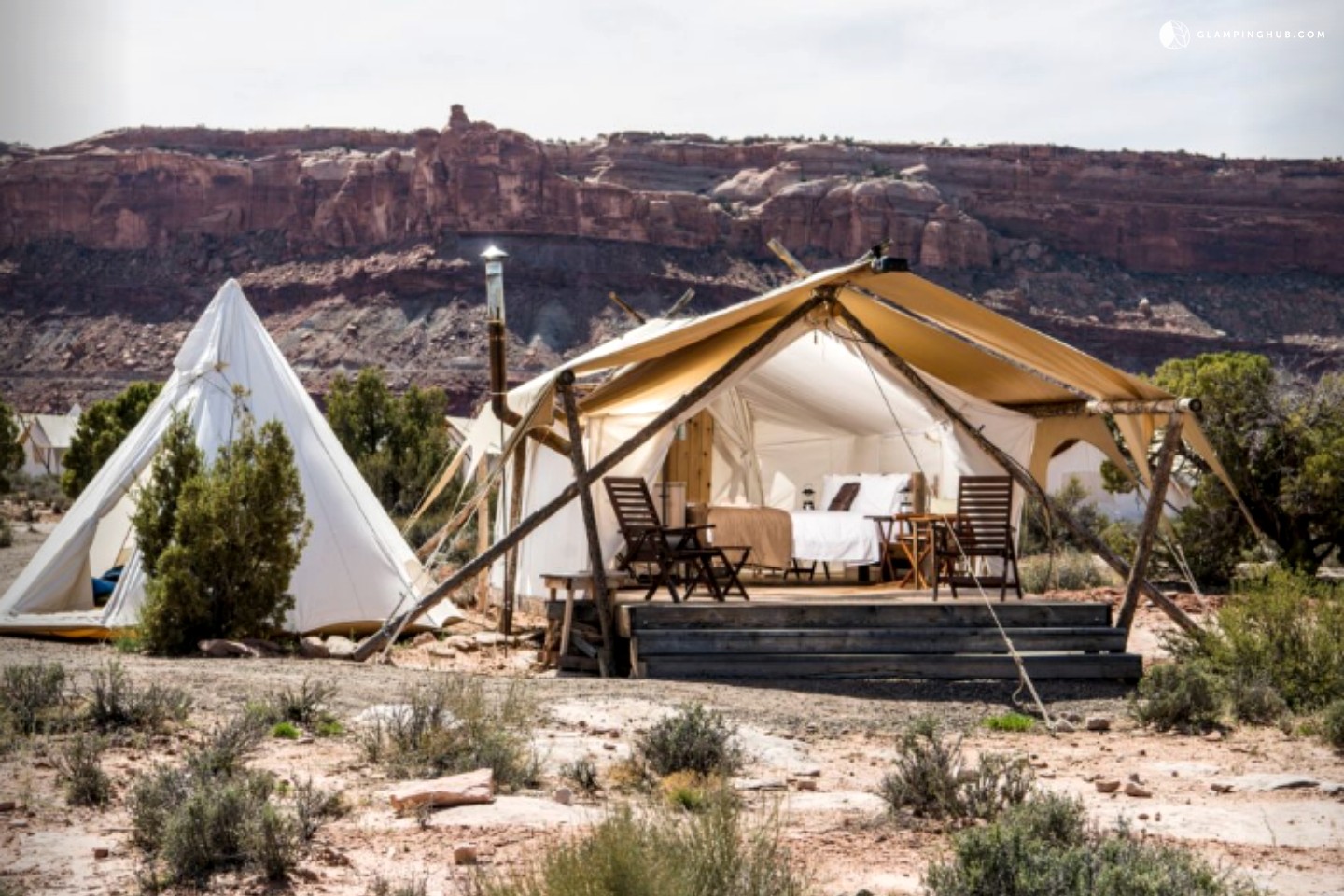 These elegant safari tents are famous for their rustic appearance, yet unbelievably comfortable amenities. Wake up in one of these contemporary accommodations and step out to face the picturesque views of Zion National Park. There's plenty of fun to go around for every member of the family, and parents can reap the benefits of their lavish, private tipi while children can camp in the spirited, playful tent right next door. The area offers tons of extravagant activities, such as sightseeing from a helicopter or horseback riding to the Three Patriarchs of the National Park. Plan an itinerary beforehand online or simply discover the incredible scenery—regardless of how, you'll cherish and enjoy this experience as long as it's shared with your loving family.
Treat your family to an adventure of a lifetime with glamping! Check out Glamping Hub's Utah Portal  for hundreds more thrilling glamping accommodations.