It is so true when they say that holidays are 10x more fun with kids! Beck is getting to be so dang fun! He just turned 7 months & he is trying his hardest to crawl! He loves to eat everything & is getting to where he isn't as stingy with his laughs!
I have been thinking long & hard about what I want to give him for his 1st Christmas! Stockings have always been one of my favorite parts of Christmas! It is so fun to have the whole family going through their stockings & anticipating what the rest of the day holds!
I have rounded up my very favorite stocking & Christmas gifts for babies! All of these brand are ones my little family uses & loves!
Smiling Tree Toys– Isn't the puzzle that says BECK to die for? I can't handle it! Beck loves tipping it upside down & playing with all the letters. It is going to be a toy that he is going to love for years! As he gets older he will be able to put the pieces together & recognize his name! Use the code BECK10 for 10% off! The code is only valid for 3 days & they have so much cuteness to check out here.
Little Outfitters– Made this perfect bowtie in the picture above! The fabric is to die for! Such good quality! Speaking of stockings, she has the best custom linen stockings on her website right now, ready to fill with goodies! If you don't have a boy don't worry because she also makes bows, bonnets & other fun home items such as advents!
pediped footwear– Can you even handle the cuteness?! These shoes are not only the cutest but such good quality! The soft soles also make it great for babies as they learn to walk. I want a pair of these for myself they seem that comfortable! They are easy to get onto a wiggling baby & they stay on. They can totally be dressed up or down too. Christmas is on a Sunday this year & Beck for sure will be wearing these to church!
Waddle Socks- Beck thinks these socks are hilarious & so do I! I can't stop putting them on him to keep his toesies warm! I also love watching him giggle as they rattle, it is the cutest thing! Waddle makes fun holiday socks as well as neutral, boy & girl themed socks!
BabyLit Books- Last Christmas my mom gave baby Beck a Baby Lit board book even though he wasn't born yet. That is how much we love these books! They are so beautifully illustrated & the best quality! They have so many varieties of books but a lot of them are the classics which are so fun to read to your littles! BabyLit also makes fun puzzles, pillows, totes etc you just can't go wrong!
b.box– Is a new brand I recently tried with Beck & I am so thrilled over their products! I am excited also to have these products grow with Beck! I love their plate & cutlery for babes! Also I so totally love this bowl & straw pictured! It is so clever! It can be a bowl with a straw so it has been awesome to use as Beck is just learning how to suck. Then you can take off the straw and it can be just a bowl. The 2 handles on the side make it so fun & easy for Beck to hold! Then you can put on a snack topper & a lid for snacks on the go! This product is really an all in one!
Tenth & Pine– I am so glad I just found this shop! It is a shop that carries everything! Crib sheets, changing pad covers, stylish clothes, pacifier clips, swaddles etc. You can find the cutest stylish clothes for your little at this shop! Not only does the shop carry brands you know & love but they also have their own line! This romper is one designed by them & it is so fun! They are totally gender neutral & have such fun details like the polka dot hood! I am a romper lover! Especially as Beck gets older it is so much easier to slide a romper on than trying to button & snap a wiggling, rolling baby!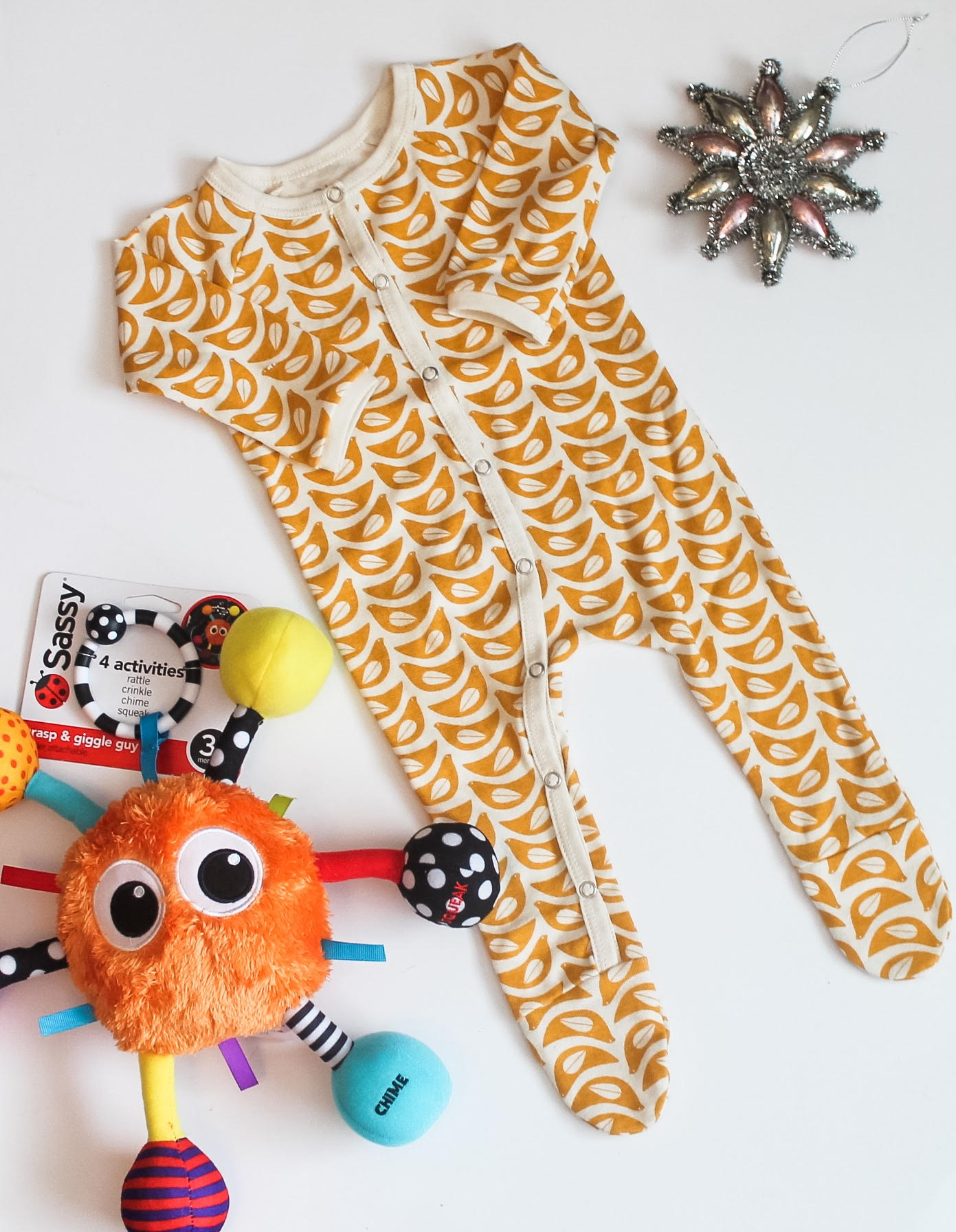 Uncle Goose– I love these classic blocks! I love that they are new but they look like the blocks your grandma had at her house when you were growing up. Uncle Goose makes all kinds of fun blocks like the safari blocks also pictured in this post, that are my favorite since they match his jungle nursery! It is recommended their blocks are for ages 2+ since babies like to put things in their mouths and ink while fairly resistant doesn't always hold up perfectly. The blocks are perfect for decor though and that is what I do with Beck's safari blocks! Once he gets past the stage of trying to eat everything they will be for play. Uncle Goose has blocks that can go in a wagon, bug blocks, under the sea blocks etc & they all cute beyond words!
NumNum– Beck learning to eat has been a little hard & frustrating for both of us because he makes such a mess. I heard about these spoons from a friend and had been so excited to try them! They are so fun & different, they are called GOOtensil. Beck loves them & they work great! They are so easy for baby to hold on their own & promote independence. Beck also loves rubbing the ridges against his gums. The pack includes 2 different styles, one for thinner puree & one for thicker! I love feeding Beck with these because there is so much less mess & he can get all the food out of the utensil.
Little Sapling Toys– The owners of LST are the best kind of people! They make a wide variety of wooden products that will leave you drooling! Beck has so many of their wood toys! I love this truck that is personalized with his name on it! Listen to how awesome this is, for every toy bought, they plant a tree. Wooden stools, rocking horses, dollhouse you name it they have it! They also have a lot of fun holiday items such as wooden ornaments that you can personalize for babies first Christmas!
MAM– I love this teether from MAM! I love that it is small enough to clip onto him & easy for him to get into his mouth. It makes it so much easier on me & him since it is clipped onto him & we aren't losing it on the go! MAM makes so many awesome products for baby & mama (they make breast feeding products too!) I have also heard wonderful things about their pacifiers & bottles!
Silikids– Silikids is a modern take on silicone! You have got to check them out! They make awesome cups like pictured above! The best part is the silicone lids can come off & stretch to fit over most any cup! The cups prevent spills, & are also dishwasher & microwave safe! Silikids makes sippy cups, straw cups, universal lids you can buy on their own, straws, training cups etc. The silicone is also soft for baby to drink out of, we are all in love!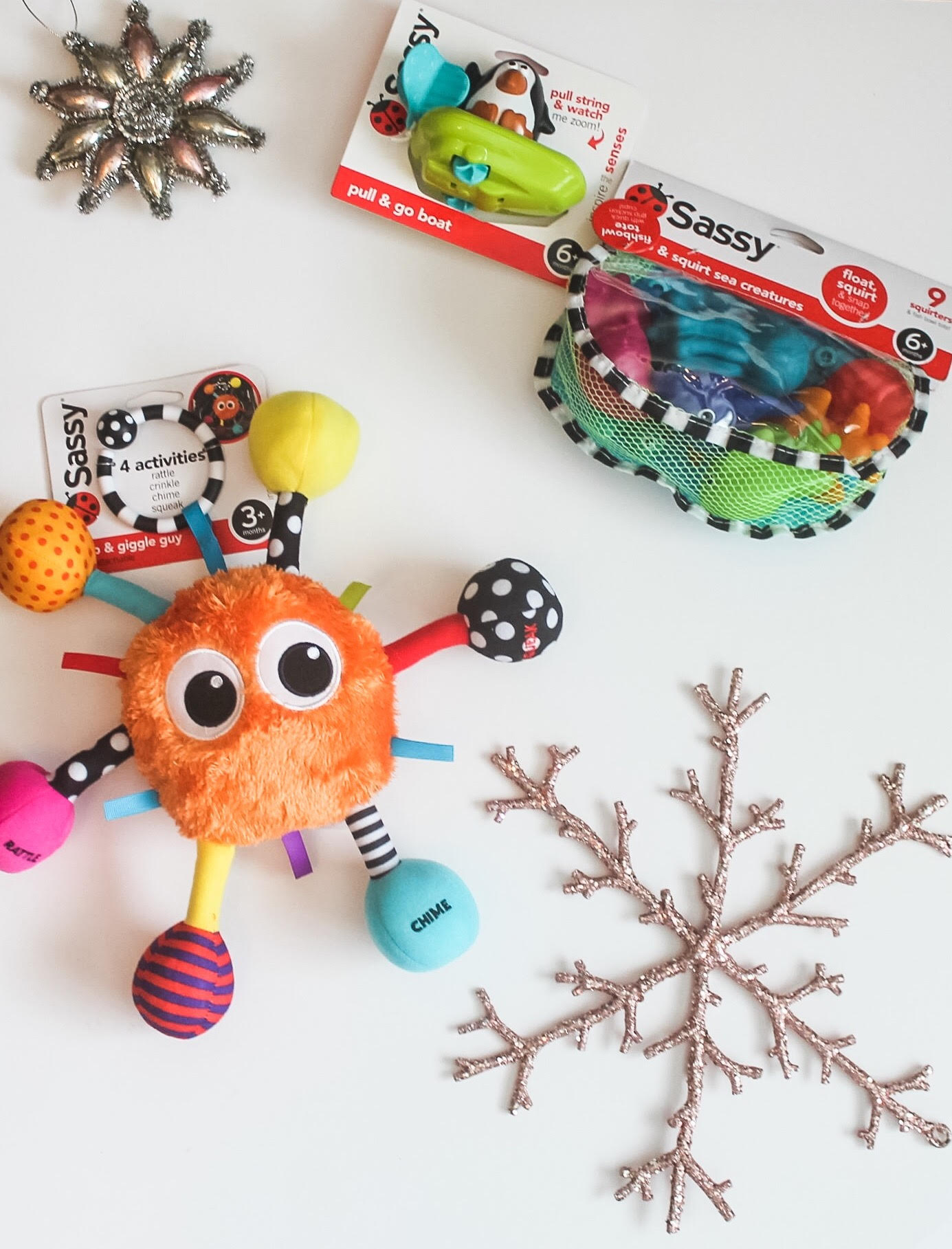 Sassy Baby– Sassy Baby makes the best developmental toys! They have toys that inspire the senses as they develop! Taste, touch, hearing & vision are in mind as their toys are designed. Specific things are geared toward different stages & ages that baby goes through. They have so many toys to choose from & they are sorted by age on their website which makes it easy to shop for any baby on your list this Christmas! Beck has been loving their bath toys! The penguin wind up boat makes him giggle every time!
Baby Banana– Beck has 6 teeth already so we have had our fair share of teething sadness. Something that has been able to stop many of the tears is Baby Banana brushes & teethers! They are game changing! Not only does it make Beck happy to brush his little teeth since it makes them feel better, his teeth should be brushed since they have come in. The whole teether is soft & easy to chew on any end. I recommend these to all of my friends now! As your baby gets older they also have a toddler elephant brush that I can't wait to get! The corn, banana & octopus all have toothbrush type bristles on them!
Rouhea– Rouhea is a Finnish word for rough or rustic. She makes the best unisex & minimalist knitted accessories for babies & toddlers! Check out her Instagram & you will die over all the color creations she comes up with! She hand makes all of them & has mad skills! & she makes them in Finland which makes them even more delicious! Especially for those winter babes, one of these warm beanies is a must this Christmas!
ergoPouch– Beck just experienced his first snow & with snow comes cold cold weather! I can't get enough of this ergoPouch sleeping bag! It is so warm & cozy! This is a winter bag & it is rated for the temperature of our house & it has been a game changer! As Beck has gotten older he can get out of swaddles in seconds. When he is wearing this bag I know that he will be warm but also safe without excess blankets with him in the crib. They make sleeping bags for the different seasons, sleepsuits, zipper swaddle bags etc. I am so excited to zip Beck up in this bag & take him camping! I know that he will be warm & safe! Also their patterns & styles are so cute!
Harv Co – is a brand made for the coolest boys around! They make the perfect everyday beanie for your little ones! I also love their bibs, they are lightweight but thick enough that they hold their shape! Harv Co also makes the best burp cloths, pacifier clips, flat billed hats etc. What I love most about Harv Co is that 20% of their proceeds go to children in need! This holiday season especially shopping small is one of my favorite things! Especially shopping with a small business that gives back!
Olen Organic– is the maker of these yummy pajamas! The fabric is so heavenly & soft! Their prints are to die for & very gender neutral! Babies skin is less resilient than adults & so this organic fabric is perfect for their sweet baby skin! Check out their baby & toddler pajamas & lounge wear because it is so good!
Elleez Bibs- This pack of 4 bibs can be found on Amazon! All of the bibs are fully reversible & gender neutral. I can never have enough bibs for Beck & all his drool! I use these bibs for drool & feeding time! They have awesome packaging & would make the perfect gift this holiday season!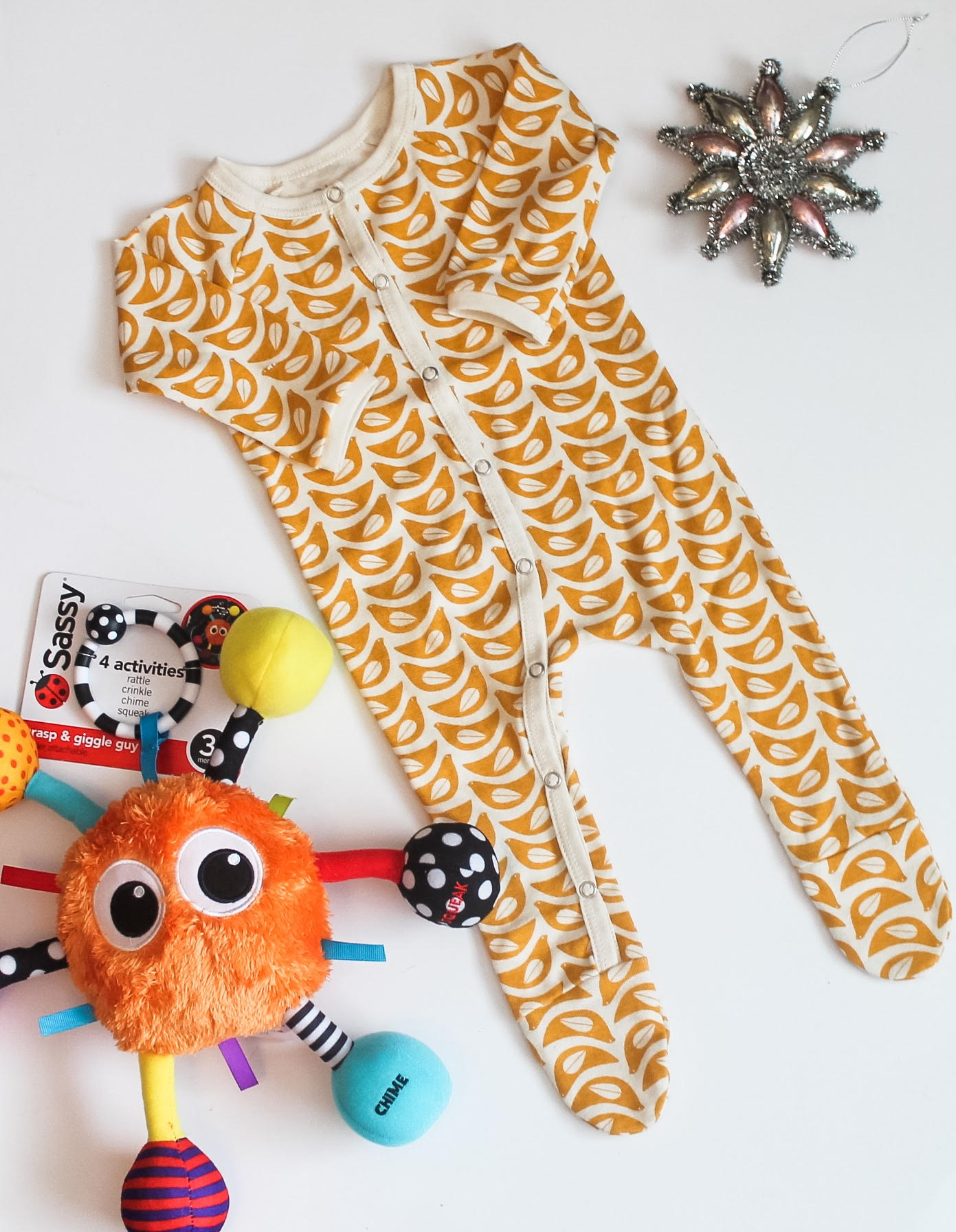 Wee Sprout– Okay I am obsessed with these! Their pouches are dishwasher & freezer safe! Beck loves sucking on them now but as he gets older too these are going to be a lifesaver! You can put your own purees of whatever in these pouches and you are good to go! They come in 3 different sizes as well. Also this freezer tray is the coolest thing! You can make frozen cubes of whatever! I may or may not have used it for giant ice cubes for me as well! But Beck loves sucking on frozen juice cubes!
I hope you enjoyed reading about all of these awesome products! They are all products that I use & love!
Some other good stocking stuffier ideas for babies are: holiday themed pacifiers & bottles, pacifier clips, baby food, baby hair brush etc.
Starting tomorrow I am going to be hosting a 12 days of Christmas giveaway series on my Instagram. & get this… all of the giveaway items will be from these awesome brands mentioned above! I know the 12 days of Christmas usually  starts in the middle of December but I want to start on the 1st! I want all of you that win to be able to get the amazing product before Christmas! Each giveaway will run for 2 days! Keep entering them since there are going to be a lot of lucky winners! A babies 1st Christmas really is so magical!
All opinions are my own!